About Us
OSP was founded with the intention to be a catalyst and enabler to create value for stakeholders in the security industry. We recognise the challenges faced by the industry especially in the area of manpower, training & development and resources. As such, OSP was launched to provide a one-stop centre with dedicated services for the stakeholders in the security industry to use with the aim to resolve their challenges and to prepare for the future.
Our Vision
We are the One-Stop e-Portal all security industry stakeholders can use and will use.
Our Mission
Through our security industry dedicated e-Portal, we bring people, process and technology together to provide unique and innovative solutions and services that deliver superior, measurable values to all stakeholders in alliance with us.
Our services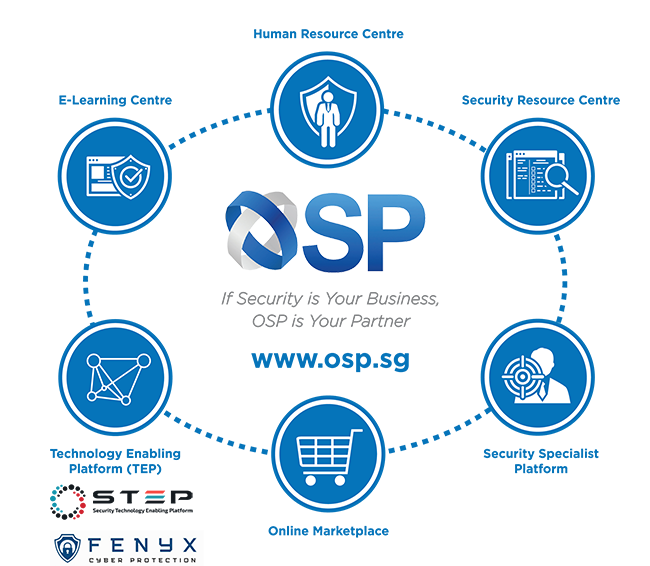 Our Management Profile
Randy Chua Swee Hin - Chief Executive Officer
He has more than 28 years of management working experience in the manpower Security Industry in Singapore, having founded Legend Security Services Group of Companies in 1994, a security agency licensed by the Police Licensing & Regulatory Department.
He grew the business to more than 600+ employees with annual revenue exceeding S$18 million. The business was sold to Securitas AB, on June 2010 one of the largest security manpower company in the world and was appointed it's Country Manager before he left in late 2011 to pursue other interest.
He is widely known and very knowledgeable about the Security Industry in Singapore.
James Wang Jun - Chief Technology Officer
He has more than 22 years of working experience in the information technology industry in software development, database design, system architecture and project management, specialising in big data and enterprise cloud solutions design and implementations.
Over the years he has held various positions as software engineer, technical director leading a team on KLISS(Key Lock Intelligence Security System), senior project manager with IBM GDC as a Certified Advanced DBA, in charge of managing over 100 large databases and over 40 mainframes and as Senior Database Architect for a JEPPIT project which is a secured and convenient payment system.
He has very strong capabilities in developing technology solutions for commercial applications.
Bruno Ang - Data Protection Officer
Email: bruno.ang@osp.sg
Postal Address: 135 Jurong Gateway Rd #05-317, Singapore 600135
Telephone Number : 9678 7762